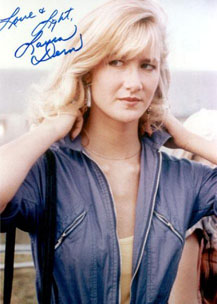 I realize it might be rude to address you more as a role than the splendid, gorgeous, can't-help-but-love-her-because-i-know-she's-so-nice-in-person type of actress that you are, so I apologize in advance for the many times I refer to you as Ellie Sattler in this humble letter. You probably get it a lot, so I'll guess its become somewhat routine. Don't get me wrong – I loved you as Sandy, and Randy, and Ruby and Gertrude; however, I come at this subject as a twenty-something gay man who grew up a tomboy in the early nineties, and instead of favoring Superman or The Red Power Ranger, I found myself only caring about the token female in what any gay, American seven-year-old would end up watching.
Movies like Batman (Yeah yeah – Michelle Pfeiffer, but must we always forget Uma?) or Power Rangers (R.I.P. Trini…) and of course, what everyone from my generation loves to talk about when hearing your name…(welcome…to)
JURASSIC PARK!
Dr. Ellie Sattler. 24 years old. Spunky. Smart. A Paleobotanist! ("A Paleo-WHAT?" as I said at seven) In the books you were still a student, just rough enough around the edges to survive an island full of killer lizards. In the movie – you were the star, you were dating the lead man and you wanted kids and maybe Alan didn't. You stayed behind to help a sick Triceratops (and in the book, a sick Stego). You got Jurassic Park back in business, all while hauling ass with a limp, a phone stuck to your ankle, and f*cking dinosaurs merely feet behind you! (between you and me, I've wanted so badly to dress as you in that scene for Halloween – sweating, moaning, dragging a phone chord and all! RUN!)
No, I wouldn't mind at all if Jurassic Park 4 only starred you and Julianne Moore (I won't make this letter about Sarah Harding, I won't make this letter about Sarah Harding…) and yeah, why not throw Tea Leoni in there too? Why you three girls would ever return to the island – who cares! I'd just love to see you all fight the dinos. It'd be like mixing Sex and the City with Jurassic Park – hold New York and the fashion, NOT the sex talk.
So you see, I call you Ellie Sattler because of my deep admiration for you as an actress, and your ability (as any great actress should have) to BECOME their roles. For me and many others, you will always shine as one of my favorite women in the action/adventure genre – up there with Ellen Ripley, Buffy Summers, and Lara Croft. Your legs are meant to wear hiking boots.
Thank you for being great at what you do! Oh – and congratulations on your recent Golden Globe Award!
Just one of your many fans,
Matthew Motobuchi